Powerful business anti-spam
This VBSpam-certified solution uses multiple anti-spam filters that combine SpamRazer technology, greylisting, IP reputation filtering, Bayesian filtering, and other advanced technologies to provide a spam capture rate of more than 99% and minimal false-positives, ensuring the safe delivery of important emails.
Multiple antivirus engine protection
This multi-scanning technique provides Zero Hour malware protection, and drastically reduces the time required to obtain the latest virus definitions against the latest threats. You gain maximum protection of your email environment via the x5 engines heuristic and polymorphic malware detection methods.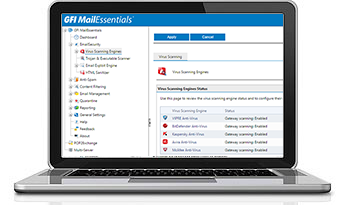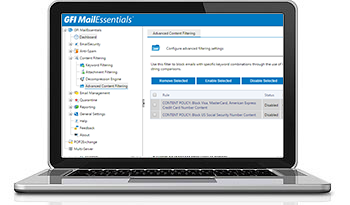 Enforce email protection content policy
Granular, user-based email content policy enforcement enables you to control content that enters and leaves your network via email. This function is based on real file type, dictionary keyword checks and regular expression checks, helping to protect your company from accidental or malicious data leaks while assisting with compliance efforts.